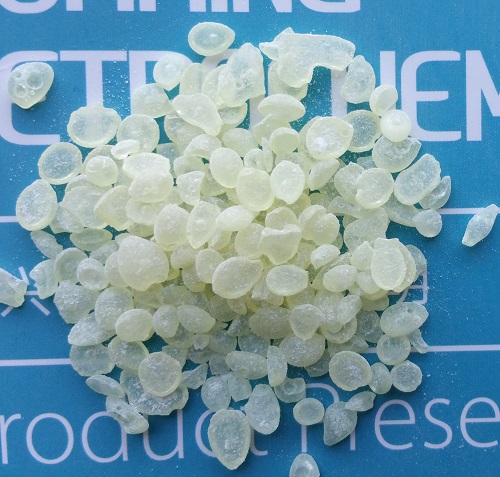 Brief introduction: C5/C9 Copolymerized Petroleum Resin is light color thermoplastic resin obtained from polymerizing unsaturated aliphatic/aromatic olefins/diolefins derived from the process of thermal cracking of naphtha.
Applications: The major usages are hot melt based pressure senitive adhesive(HMPSA), hot melt adhesive(HMA), because of its good compatibility with base polymer such as SIS (Styrene Isoprene Styrene), EVA (Ethylene Vinyl Acetate).
Packing, storage and transportation: C5/C9 Copolymerized Petroleum Resin is available both in big bags of 500kgs net weight and in multi-ply paper bags of 25kgs net weight. Pelletized forms of resins may block or lump in hot weather climates or if stored near heat sources. Inside storage is recommended and keep at temperature not exceeding 30℃.
Product quality index
NO.

Item

Performance Index

HX- M90

HX- M100

HX- M110

HX- M120

HX- M130

1

Softening Point,℃

89~96

95~105

105~115

115~125

125~135

2

Color (Gardner,#)

Max 6

Max 6

Max 6

Max 6

Max 6

3

Acid value,mgKOH/g

Max 0.2

Max 0.2

Max 0.2

Max 0.2

Max 0.2

4

Bromine value,gBr/100g

Max 25

Max 25

Max 25

Max 25

Max 25

5

Ash content,wt%

Max 0.1

Max 0.1

Max 0.1

Max 0.1

Max 0.1

6

Melt Viscosity BRF,@200℃ cps

Max 200

Max 200

Max 200

Max 200

Max 200

7

Color Stability,@200℃,Ga#

Max 9

Max 9

Max 9

Max 9

Max 9